Wedding Planners in Chennai
Wedding Aaha - 1 Stop Service with the Best Wedding Planners in Chennai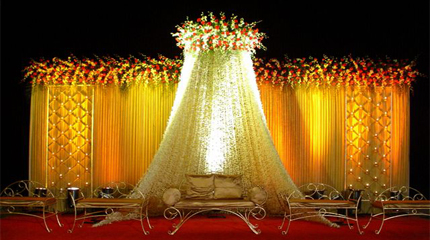 Wedding Aaha is a group company of LA Bamba Eventz (BAMBA MEANS RHYTHM OF LIFE) - Preferred Wedding Planners in Chennai which has successfully organized many multifaceted wedding services over the past 6 years.
Looking for A One Hub Bespoke Wedding Planners in Chennai to all budgets and faiths?
Look no further than Wedding Aaha - Wedding Decorators in Chennai subsidiary of La Bamba Eventz.
Wedding Aaha has conducted more than eighty weddings and more than four hundred events over the past six years,
Wedding of all cultures and faiths.
Weddings straddling Budget to the Super ostentatious
Destination Weddings
Bespoke Weddings
Theme Weddings.
Budget Weddings
Uber Weddings.
Wedding Aaha is a Hothouse of creative talent and Wedding Decorators & Wedding Stage Creators in Chennai
Krithika Devaraj is assisted in Weddings Aaha by her husband and a host of creative artists and operations staff. Our Wedding Planners in Chennai work with various technicians to make Aaha moments
Creative Chief Wedding Planner
Wedding Stage Creators
Caterers
DJ'S & Musicians
Story tellers
Florists
Tattoo, Mehndi, Beauty Experts
Balloon sculpture artistes
Stand up comedians
Magicians/Fire Eaters/Tanoura./Jugglers/Belly Dancers/Ballet Dancers
Pyrotechnics
Traditional Musicians / Dancers / Instrumental / BharatNatyam / Karnatic / Kuchipudi.
Retro Discos
MC'S
Dance Choreographers for various styles.
Dance Groups for Outstanding Fun performances to elevate Moods/Flash Mobs.
Personal Shoppers
Ventriloquists.
Puppeteers
Rain Dances
Image Consultants & Dress Drapers.
They are all there to make aaha moments happen. Wedding Aaha can Cater To any Bespoke Decoration Theme or request. We have associates from all creative backgrounds to make things happen.
Have an idea for a unique wedding theme you have dreamt of?
Working with Wedding Aaha One of the top wedding planners in chennai will ensure your ceremony is full of Aaha memorable moments without any hassles.
Bespoke Wedding Themes Decoration Chennai
Floral / Color / Designer / Ambience / Bespoke wedding themes
Hindu,Muslim/Christian faith based original ritual based themes
Geography based Bengali/Marathi/Marwadi/Telugu /Tamil etc Themes.
Themes Based on Replicas of Famous places/Historical/Mythological.
Fictional Fantasy Wedding Themes or Country Themes.
Bollywood Themes or Retro Themes or Rural folk Or Flea Market Fun Reception Themes.
Customized Stage and Mandap décor –Theme Based.
Mood and sensory and Ambience Matched lighting and AV systems.
Seating Schema to Match Décor.
Thus it's the time to choose with the Marriage Decoration in Chennai for making more precious moments and memories
Budget Wedding Planners in Chennai for a Reason
Looking for the Best wedding planner within your budget?
Don't Want to Compromise on your Aaha Moments but it has to be done within a budget look no further than Wedding Aaha who Straddle Budget as well as luxury Weddings with equal Panache.
"We Value every event as a milestone above Revenue"
Wedding Aaha will work around your budget to ensure that it is a memorable Bespoke event after all weddings are all about experiential and elevation moments.
Wedding Aaha A One Stop full service Wedding planning company in chennai organize within their Gamut
Pre Wedding Services
Pre Wedding Services
Venue & Location Research & Consultancy
Guest Mgmt
Personal Shopping services
Themed bespoke Wedding Stage decor & Wedding Decor
Planning procurement & Infrastructure Management
Ritual and Priest Management
Make Up and Beauty Services
Bespoke tailoring and Trousseau Shopping Personal Shopper Assistance.
All kinds of new concepts in food catering & Gastronomic Management
Music And Comprehensive Entertainment Management.
Photo and Video services
Return Gift Management.
Valet services
Concierge services for guest mgmt.
Transportation
Accommodation & travel arrangements
Destination HoneyMoon Packages.
Post Wedding Services
Ceremonies Galore With our Wedding Planners in Chennai
Weddings are a potpourri of ceremonies combining the old and the new .
Wedding Aaha- Wedding Planners in Chennai have conducted various ceremonies in their wide Gamut which include but not restricted to
Baraat
Sangeet
Mehfil
Mehendi
Jaimala
Haldi
Reception Parties
Bridal Showers
Bachelorette and Bachelor Parties
Bespoke Couple Entry Party.
Weddings are all about Aaha moments probably counting amongst the most elevated moments in life. Wedding Aaha - Best Wedding Planners in Chennai will ensure that memories from your landmark event will be amazingly captured and stored for posterity.
Photography /Make Up Services
Coordination of Photography and Videography to capture all the Aaha Moments.
Candid Couple Shoots in Different Settings/Beach Resort/Farm Rural Settings.
Pre-wedding shoots, family portraits, bridal portraits/Post Wedding Shoots
Video Streaming/Drone Photography.
Makeup and styling for The Bride and Groom for all the different events and photo shoots.
Hand Holding and Personal Shopper If required for Wedding clothing trousseau accessories Shopping.
Local Etiquette/Saree Draping Help Services
Food & Gastronomic Services.
When one Monk was asked the meaning of life he said life is food and thoughts about food.
o Make sure the taste buds of all the epicureans and gastronomics are overwhelmed Wedding Aaha works with the best of Caterers the Finest Craftsmen of their trade.
Recommending options of catering partners based on Budgets
Menu Planning in Sync With Caterers based on culture .
Assisting with the caterer for any signature themes based menu and food.
Customised Packaged Water Bottles With Names of the bride and groom or any other theme.
Recommending latest Trendy Gastronomic themes or Fads for the epicureans.
All kinds Of creative Food stall Options to add pizazz to the Menu
Wedding Aaha - Wedding Planners in Chennai.
Weddings are all About Aaha elevation moments.
Wedding Aaha will work with you hand in hand as an extended member of your family to ensure that.