Corporate Event Organisers in Chennai
La Bamba Eventz - Best Corporate Event Organisers in Chennai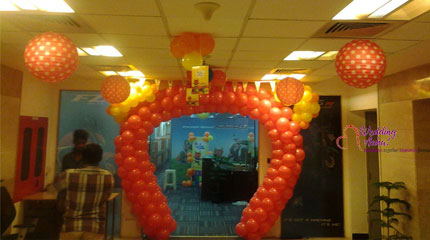 • Corporate Events involves well organised planning, creative thinking and as well as execution with an hawks eye view of the details.
• Corporate culture nowadays is all about employee engagement and increasing productivity or return per employee.
• Corporate fun eventz to boost employee morale and attenuate employee bonding are sacrosanct in the scheme of thingss.
• Happy and Energised Employee culture will be enhanced by partnering with La Bamba Eventz - Best Event Organisers in Chennai
• La BamBa Eventz has been organizing employee engagement programmes for six years.
The events encompass different objectives involving team bonding or motivational or endorphin releasing sporting events.
La Bamba Corporate Event Organisers in Chennai
Our service bouquet of corporate event programmes in the past have entailed
• Organizing product launches
• Corporate weekend resort getaways with team bonding games and sports.
• Hiking Expeditions.
• Marathons
• Cycling Event
• Stand up Comedy
• Musical Nights
• We La Bamba Eventz - Top Event Management Company in Chennai organize various employee engagement events to boost morale and happiness of employees.
• Contact La Bamba - Best Event Planners in Chennai for any corporate engagement activities.
Top Corporate event management company in Chennai
• As Corporate Event Organisers in Chennai we arrange a plethora of different events as per your corporate needs. Examples of days handled by La Bamba Eventz for our Corporate Customers are listed below but not limited to as creativity is a rubber band the more you stretch it the more your creativity grows
For idea boosters
Awards Day
Seminars
AGMS venue/ Hi- Tea or food & Gift Hampers for shareholders
Family Day
Womens Day
Childrens day
Fathers Day
Resort-Mountain/Beach/Rural Theme Retreat days
Team Outings /Bonding Days.
Motivational Day Outs
Diwali
Christmas
New Year
Sports Day
Marathons
Cycling Events.
Yoga Sessions and Spiritual Retreats
Hiking Days
Zumba Dancing.
Fun Fairs –Bazaar Flea Market Carnivals
Stand Up Comedy Shows
Are You in Search of event organisers in chennai to handle a important event for your hard working employee family?
Reach us by calling 9940662455 or 9840855522 to ideate crystallize and execute your event.